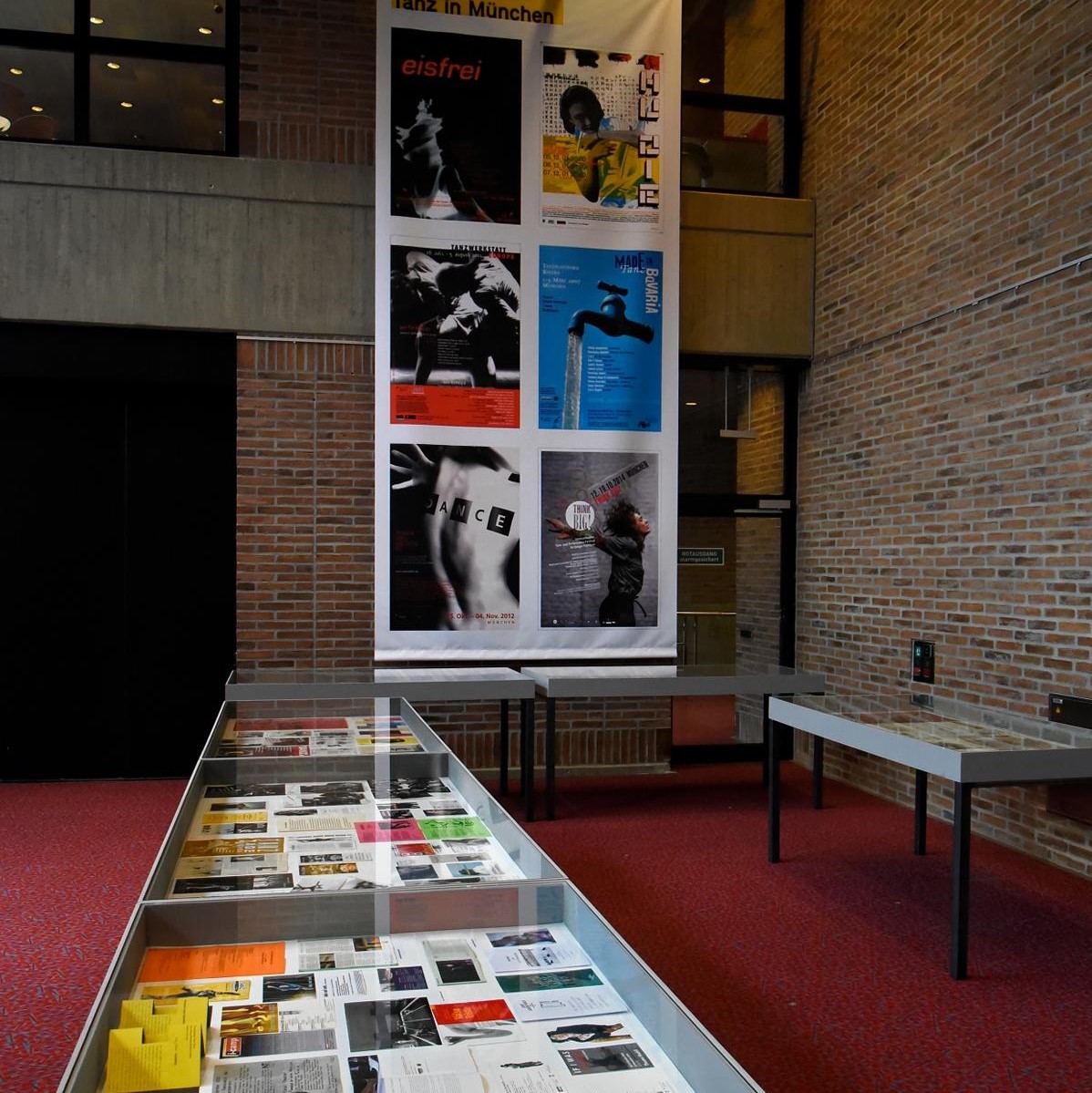 Exhibition
Dance in Munich –
an archive in motion
Thursday, May 11 to Sunday, May 21, 8 a.m.-11 p.m.
Venue: Foyer Carl-Orff-Saal, Gasteig
Note:

On Saturday, 20th of May, 11 a.m. a panel discussion takes place on the subject of "30 years of Tanztendenz Munich"
Venue: Gasteig, Foyer Carl-Orff-Saal, 2nd floor
free entrance
Munich in the 80´s: What was going on in the dance scene? Choreographers that influenced the scene and founded the "Tanztendenz Munich" in 1987 are invited to the panel discussion: Angela Dauber, Jessica Iwanson, Angelika Meindl, Micha Purucker und Bonger Voges.
On Sunday, 21th of  May, 10:30 a.m. -12:45 a.m., a public panel discussion takes place on the subject of "Designing media centers and access"
Venue: Gasteig, Room 0131
free entrance
Archives for theater, dance and performance make a major contribution to the maintenance of the cultural heritage in the area of the Scenic Arts. Their maintenance however is not unproblematic. In the discussion we want to collect expert´s reports and enquire about feasible solution models.
With: Heide-Marie Härtel (Tanzfilminstitut Bremen), Walter Heun (JOINT ADVENTURES), Nina Hümpel (Festival DANCE), Fabian Rudner (Theater Sciences Munich), Thilo Wittenbecher (Mime Zentrum Berlin), Moderator: Prof. Dr. Patrick Primavesi (University of Leipzig and Tanzarchiv Leipzig e.V.)

The independent dance scene that started to form in the 1970s left behind noticeable traces in Munich, as in other cities. It was responsible for and developed new concepts about the theater, movement, and the body. The aesthetic issues and cu ltural politics that were developed at that time and have been the subject of discussion since are still virulent.

How was this scene created? What did it look like? What did it stimulate? Where were its "hot spots" in the city? Who was (and is) active in Munich? What were their artistic concepts? How did they experience the developments within the scene? How did the general public perceive this scene? An exhibition and a podium discussion convey insights into the dynamic past and present of the independent dance scene in Munich.

Concept: Brygida Ochaim, Katja Schneider

A podium discussion on the subject of "30 Years of Dance Trends in Munich" will take place on Saturday, May 20, at 11:00 a.m.
With: Angela Dauber, Jessica Iwanson, Angelika Meindl, Micha Purucker, Bonger Voges